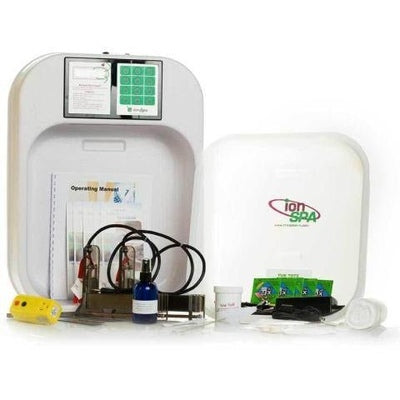 The IonSpa Professional Foot Bath
Sale price
$1,495.00
Regular price
$2,000.00
THE ION SPA
We manufacture the best ionic detox foot baths on the market.  How can we make that assertion?  Our products speak for themselves.  We don't have to embellish our units and accessories with excessive marketing hype, or make outrageous claims.  The features, benefits and value of the ionSpa units are what make us the leading manufacturer of ionic foot baths in the world. 
The ionSpa Professional v7 is specifically designed for practitioner use in a clinical environment.  Featuring a control unit built into a durable molded tub and an extra array, the Professional gives you the ability to handle a high volume of clients with no down time between sessions.
The Pro is US manufactured and functions with the same Intelli-Drive technology as the portable unit, but is specifically designed for clinical environments.  I
Product Features:
Newest v7 Software 

– v7 is even more reliable, user friendly and safe.

v7 Allows 3 Language Settings 

– English, Spanish and French.  User friendly for ALL people! 

Controls Built Into a Sleek Molded Tub 

– For easy programming. Has all the software features of the intelli-drive system. Read about our new more powerful upgrades here!


Two Arrays 

– No down time between sesssions!

Plastic Tote 

– Makes transporting and disposing of water easier.

Multiple  Power Settings 

-with full +/- polarity 


EVERYTHING

 You Need to do your first 100 sessions and more


3 Year Limited Warranty

Lifetime Technical Support
THE SCIENCE
The ionSpa ionic foot bath produces positive and negative ionsthat reverberate throughout the body to remove toxins and rebalance cellular energy.
While the body's natural electrical impulses flow daily, age, injury, and illness can affect the electrical flow, causing a person to feel bad. The ionic foot bath, which is not a medical device but rather an instrument of assistance, works to detoxify the body of harmful substances and re-establish its natural balance. Users of the ionSpa ionic foot bath testify to the healthier, obvious difference they feel after a session.
The ionic foot bath operates through a process called electrolysis by passing direct electrical current through the foot bath water to break apart the H2O (water) molecule. This releases oxygen, stable hydrogen and the negative hydrogen ion (H-), the core benefit of an ionic foot bath session.
This negative hydrogen ion is a powerful antioxidant, pH balancer and the catalyst most responsible for ATP (adenosine tri-phosphate) production, our body's greatest energy resource. In the past, we received the negative hydrogen we needed through the consumption of raw vegetables and light proteins but modern processing, storage and handling has virtually stripped the modern diet of this increasingly vital element. Gentle and relaxing ionic foot bath sessions allow the body to uptake this "fuel of life", which is essential in balancing and reenergizing the body's natural ability to purge toxins and heal itself.
When experiencing the ionic foot bath, you will see the water change color as the electrical current, water, and magnetic field interact with your feet. While the water would change color by itself, the colors are noticeably different with feet in the foot spa and from one person compared to another person.
Ionic foot baths are not the first types of products to try and extract this powerful negative H ion and absorb it into the body. Since the 1950s, manufacturers have produced dozens of ionic generators for laboratory and home use. Early machines ionized atoms and molecules via high-voltage electrical fields, incandescent materials, ultraviolet light, x-rays and alpha or beta radiation from isotopes.
Advanced technology has eliminated many problems associated with previous ion devices. The IonSpa ionic foot bath, creates a high voltage with lower current, thereby reducing or eliminating the production of ozone. Our patented Intelli-Drive technologymaintains a constant level of ionization throughout the course of the foot bath, increasing its effectiveness by over 10 times.
★ Legal Disclaimer
Our product is NOT a prescription medications or drugs, they are nutritional health products and 
are not intended to treat, cure, or prevent any disease, but rather are dietary supplements intended solely for nutritional support. These statements have not been evaluated by the Food and Drug Administration. The information provided on this site is also not intended as a substitute for advice from a health care professional or any information contained on or in any product label or packaging. Please consult with a healthcare professional before starting any diet, exercise or supplementation program, and also before taking any medication, or if you have or suspect you might have a health problem. Any product testimonials reflect user's personal experience and individual results from these supplements may vary.
---
Share this Product