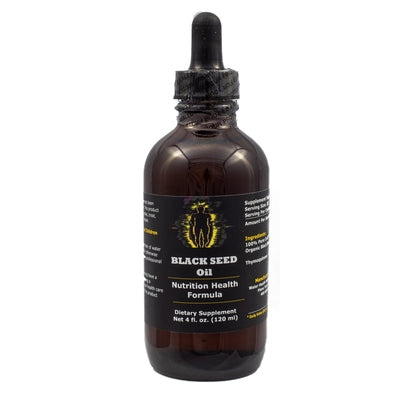 Black Seed Oil Nutrition Health Formula
The Black Seed Oil Nutrition Health Formula, sourced from the Nigella Sativa plant in Egypt, is recognized for its rich content of beneficial compounds. These include three remarkable phytochemicals: thymoquinone, thymohydroquinone, and thymol. Additionally, the oil contains various active components, such as alkaloids, saponins, sterols, B vitamins, minerals, omega-3, and omega-6 fatty acids, all of which carry a negative charge. While no specific claims are made, these elements have been associated with numerous potential benefits for overall well-being:
Applications and Advantages:
Metabolic Health: Black seed oil is believed to support metabolic processes, which can contribute to overall vitality and well-being.
Weight Management: It may play a role in assisting with weight management and maintaining a healthy body composition.
Blood Lipid Levels: Some individuals have reported positive effects on blood lipid levels when using black seed oil.
Skin Elasticity and Hair Health: Black seed oil is often associated with promoting healthy skin elasticity and hair health, supporting overall appearance.
Liver Health: It is considered beneficial for liver health and may assist in the body's natural detoxification processes.
Respiratory Health: Some individuals use black seed oil to support respiratory well-being.
Digestive Health: It may aid in promoting healthy digestive processes and reducing discomfort in the gastrointestinal tract.
Brain Health: Black seed oil is believed to support cognitive function and overall brain health.
Joint Health: It may assist in maintaining joint health and reducing discomfort, potentially improving mobility.
Hormonal Health: Some users have reported experiencing improvements in hormonal balance.
Reproductive Health: It is believed to support reproductive organ health, contributing to overall well-being.
Immune System Support: Black seed oil is thought to provide a foundation for overall immune system health, supporting the body's natural defenses.
Important Information:
100% pure natural organic cold-pressed

Premium Food Grade

No known side effects
Thymoquinone: 45%
Net 4 fl. oz.
Disclaimer: 
These statements have not been evaluated by the Food and Drug Administration (FDA). These products are not meant to diagnose' treat or cure any disease or medical condition. Please consult your doctor before starting any exercise or nutritional supplement program or before using these or any product during pregnancy or if you have a serious medical condition.
---
Share this Product
---
More from this collection