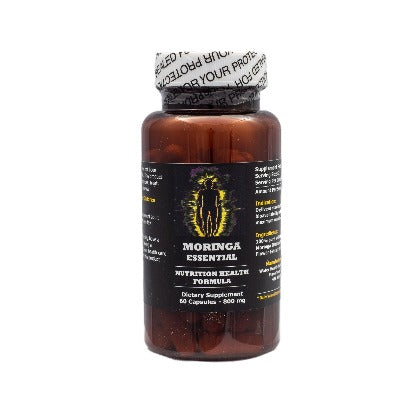 Moringa Essential Nutrition Health Formula
Moringa Essential Nutrition Health Formula is organically certified, concentrated nutrition with most effective antioxidants supercharged nutrients for body balance. It contains all bio-available essential minerals, amino acids, and vitamins A, B, B1, B2, 3, B5, B6, B12, C, D, E, K; folic acid, biotin, micro minerals, trace minerals, over 92+ nutrients, 46 types of antioxidants, 36 anti-inflammatory compounds, and 18 amino acids including the eight essentials. Also contains a large amount of calcium and plant protein to avoid osteoporosis and other symptoms caused by calcium loss

Usages and Benefits:
Increase defense ability of the body
Stabilize blood pressure and balance glucose levels
discharge harmful substances from the body
Increase immunity function

improve gastrointestinal function
Increase  liver detoxification to discharge harmful substances
Increase cellular nutrition and cellular restoration
Increase restful sleep
Increase metabolism 
Provide nourishment to the eyes and the brain
Important Information:

The Nutrition Health Formula contains no caffeine, no stimulants, no gluten, no soy, no dairy, no GMO, no fillers, no binders, unsteamed & unpasteurized.
Richest sources  of essential nutrients

100% pure Moringa leaf and flower extract 20:1 

antivirals, anti-bacterial, anti-inflammatory, 

antidepressant and sedative

Diabetic patients cannot adjust honey to take

All herbs are handcrafted
Parts Used: Leaf and flower
Net Capsules: 60
Disclaimer: 
These statements have not been evaluated by the Food and Drug Administration (FDA). These products are not meant to diagnose' treat or cure any disease or medical condition. Please consult your doctor before starting any exercise or nutritional supplement program or before using these or any product during pregnancy or if you have a serious medical condition.
---
Share this Product
---
More from this collection