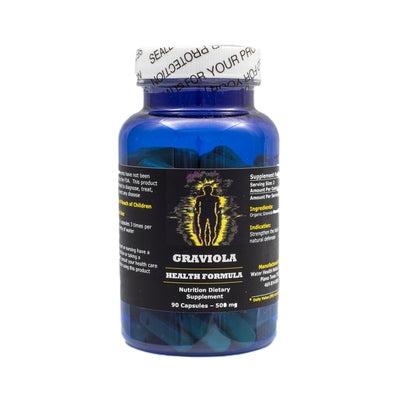 Graviola Nutrition Health Formula
Sale price
$29.00
Regular price
$49.95
Unlock the potential of Graviola Nutrition Health Formula with its impressive 20:1 concentration ratio. This extraordinary dietary supplement, derived from the versatile Graviola plant, known by various names such as Sour Sop, Guanabana, Custard Apple, Cherimoya, and Brazilian Paw Paw, can be a vital asset on your journey to better health. Its unique ability to potentially benefit your cardiovascular, immune system , respiratory system and nervous system, along with its remarkable antioxidant properties, might deeply resonate with your well-being goals.

Take action now and experience the exceptional benefits it offers.
Elevate Digestive Health: Graviola is renowned for its support of digestive well-being and its role in maintaining a healthy digestive system.

Harness Anti-Inflammatory Potential: With its believed anti-inflammatory properties, Graviola could be the answer to reducing inflammation in your body.

Empower Cardiovascular Wellness: Research indicates that Graviola may positively impact cardiovascular health by promoting healthy blood pressure and cholesterol levels.

Nurture Your Nervous System: Graviola is thought to possess neuroprotective qualities, which can contribute to the overall health of your nervous system.

Safeguard Liver and Kidney Health: Graviola's potential support for your liver and kidneys may play a crucial role in their detoxification processes.
Act now and make Graviola Nutrition Health Formula an essential part of your health journey. With its 20:1 concentration, handcrafted herbal preparation, and 90 capsules per net, it's time to take the step toward a healthier you.
Disclaimer: 
These statements have not been evaluated by the Food and Drug Administration (FDA). These products are not meant to diagnose' treat or cure any disease or medical condition. Please consult your doctor before starting any exercise or nutritional supplement program or before using these or any product during pregnancy or if you have a serious medical condition.

---
Share this Product
---
More from this collection