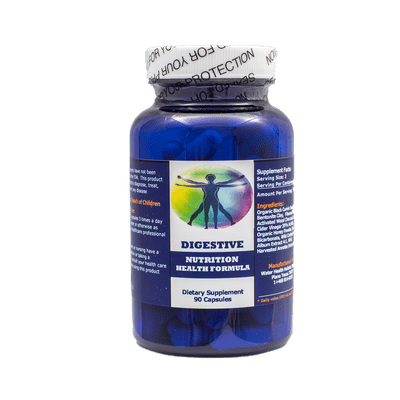 Digestive Nutrition Health Formula
Embark on a journey to support your well-being with the Digestive Nutrition Health Formula, a carefully crafted formula designed to promote digestive health and address common concerns like indigestion. It's formulated to help maintain a harmonious alkaline pH level, support the functionality of vital organs like the liver, stomach, and gastrointestinal system, and encourage the growth of beneficial bacteria.
Here's how the Digestive Nutrition Health Formula can make a real difference in your life:
Improved Digestion: Enhance your body's ability to break down and absorb nutrients from food, reducing issues like bloating, gas, and indigestion.

Support for Gut Health: Promote a healthy balance of beneficial gut bacteria with probiotics, prebiotics, and other ingredients for overall digestive health.

Relief from Digestive Discomfort: Find relief from common digestive discomforts like heartburn, acid reflux, and irritable bowel syndrome (IBS).

Optimized Nutrient Absorption: Help your body absorb essential nutrients more effectively for improved overall health.

Enhanced Immune Function: Strengthen your immune system with a healthy gut to better defend against infections and diseases.

Reduced Inflammation: Benefit from anti-inflammatory properties that can reduce inflammation in your digestive tract.

Support for Weight Management: Manage your weight more effectively by improving metabolism and reducing overeating.

Balanced Stomach Acid: Maintain a balanced level of stomach acid for efficient digestion.

Relief from Diarrhea and Constipation: Regulate bowel movements and find relief from diarrhea and constipation.

Reduced Food Sensitivities: Improve digestion of certain foods, especially if you have food sensitivities.
Vital Information
No known-side effects
All herbs are handcrafted
Net Capsules:90
Testimonials:
Janine C. 
I've been using this product for a few weeks now, and I can't believe the difference it has made in my digestive health. My symptoms have significantly improved, and I'm finally experiencing relief from the discomfort I used to feel.
Sonia A.
I was skeptical at first, but after trying this supplement for a month, I can confidently say that it has helped me manage my digestive condition effectively. I've noticed fewer flare-ups and a general improvement in my overall well-being.
Maria M.
I've struggled with digestive issues for years, and I've tried numerous products without much success. This formula, however, has been a game-changer. It's provided me with the relief I've been searching for, and I'm thrilled with the results.
Martha J.
I can't thank this supplement enough for the positive impact it's had on my digestive health. It's become a vital part of my daily routine, and I'm no longer constantly worried about my stomach problems.
Cosby M.
After incorporating this product into my life, I've noticed a significant reduction in my digestive discomfort. I feel more energetic and am finally able to enjoy meals without the fear of indigestion.
Carly N.
I was hesitant to try yet another digestive supplement, but this one has exceeded my expectations. It has effectively addressed my digestive issues, and I now feel more in control of my health.
Lyonel J.
I've recommended this product to my friends and family because of the remarkable improvement it's brought to my digestive well-being. I'm now able to live my life without the constant worry of digestive discomfort.
Denizard E.
If you're struggling with digestive problems, I highly recommend giving this supplement a try. It has provided me with noticeable relief and has allowed me to regain my quality of life.
Nadine O.
I've finally found a product that works for my digestive condition. It's given me the peace of mind I've been seeking, knowing that I have a reliable solution to manage my symptoms.
Kenny H.
I'm so grateful for this supplement. It's helped me regain control over my digestive health, and I can now enjoy meals without the fear of discomfort. It's truly been a life-changer for me.
Disclaimer: 
These statements have not been evaluated by the Food and Drug Administration (FDA). These products are not meant to diagnose' treat or cure any disease or medical condition. Please consult your doctor before starting any exercise or nutritional supplement program or before using these or any product during pregnancy or if you have a serious medical condition.
---
Share this Product
---
More from this collection