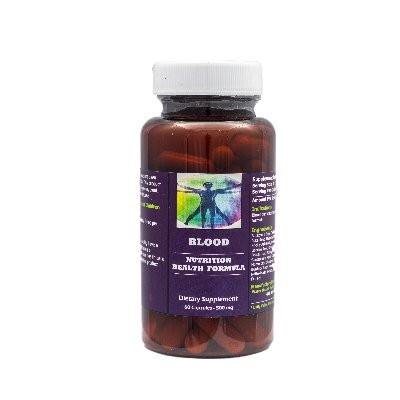 Blood Nutrition Health Formula
Sale price
$29.75
Regular price
$59.00
Blood Nutrition Health Formula is carefully crafted to provide essential nutrients that can support various aspects of your blood health and overall well-being. This powerful formula has been designed to offer the following potential benefits:
Promotes Blood Vitality: Our formula includes key nutrients that support the vitality of your blood, helping it function optimally for overall health.

Red and White Blood Cell Formation: It provides essential nutrients necessary for the formation of both red and white blood cells, which play vital roles in oxygen transport and immune function.

Supports Immune Function: The carefully selected ingredients in our formula may contribute to a healthy immune system, helping your body defend against illness and infection.

Contributes to Cardiovascular Health: Some components in our formula are associated with cardiovascular health, potentially promoting a healthy heart and circulatory system.

Assists in Iron Metabolism: Our formula includes nutrients that can assist in iron metabolism, which is crucial for the production of hemoglobin and healthy red blood cells.

Supports Organ Health: Certain ingredients in our formula may contribute to the well-being of key organs such as the kidneys and liver, which play essential roles in detoxification and overall health.

Enhances Skin Health: Skin health is often a reflection of internal well-being. Our formula includes nutrients that may promote healthy skin, contributing to your overall appearance and comfort.
 Important Information:
Supplemental Nutrition
No known side effects
All herbs are handcrafted
Net Capsules: 60
Does Not Contain: Wheat, gluten, corn protein, yeast, soy, animal or dairy products, fish, shellfish, peanuts, tree nuts, eggs, artificial colors, artificial sweeteners, or preservatives.
Disclaimer: 
These statements have not been evaluated by the Food and Drug Administration (FDA). These products are not meant to diagnose' treat or cure any disease or medical condition. Please consult your doctor before starting any supplement program.
---
Share this Product
---
More from this collection