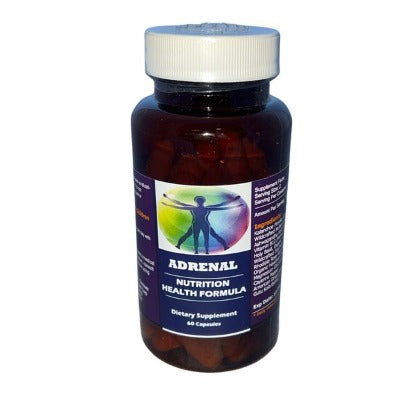 Adrenal Nutrition Health Formula
Sale price
$29.00
Regular price
$39.00
Uncover the transformative power of our Adrenal Nutrition Health Formula, a meticulously crafted blend aimed at not only supporting the well-being and optimal function of your adrenal glands but also unlocking a multitude of benefits. Nestled atop your kidneys, these small, triangle-shaped glands play a pivotal role in regulating stress responses, enhancing energy production, and maintaining hormonal balance.
Our carefully formulated mix taps into the potency of vitamins, minerals, and adaptogenic herbs to nourish your adrenal health, leading to a holistic improvement in your vitality and equilibrium.
The exceptional benefits that our Adrenal Nutrition Health Formula brings:
Feel the soothing embrace of Stress Management as adaptogenic herbs like rhodiola, ashwagandha, or licorice root guide your body through the delicate dance of balance in times of stress.

Ignite a natural Energy Boost as our formula nurtures the adrenal glands, the architects of hormone production, fueling your vitality and zest for life.

Nurture Hormonal Balance, especially during challenging periods, letting our formula be your companion in maintaining a harmonious equilibrium.

Elevate your well-being with Immune System Support, as the carefully selected ingredients fortify your body's defenses, promoting overall health.

Experience the invigorating power of Enhanced Vitality, as essential nutrients weave a tapestry of well-being that encompasses your entire being.

Feel the clarity of Improved Cognitive Function, a gentle ally during stressful moments, supporting your mental focus and acuity.

Bid farewell to fatigue with Reduced Fatigue, as our formula aids in dispelling weariness and sustaining your energy levels throughout the day.

Savor the tranquility of Better Sleep, as the formula delicately guides your body's stress response, potentially enhancing the quality of your rest.

Delight in the harmony of Mood Regulation, as cortisol levels find balance, contributing to a positive impact on your emotional well-being.
Important Information:
Enhance your well-being with supplemental nutrition.
Enjoy peace of mind with no known side effects.
Experience the quality of handcrafted herbs.
Each bottle contains 60 capsules.
Disclaimer: 

These statements have not been evaluated by the Food and Drug Administration (FDA). These products are not meant to diagnose' treat or cure any disease or medical condition. Please consult your doctor before starting any supplement program or device.
---
Share this Product
---
More from this collection