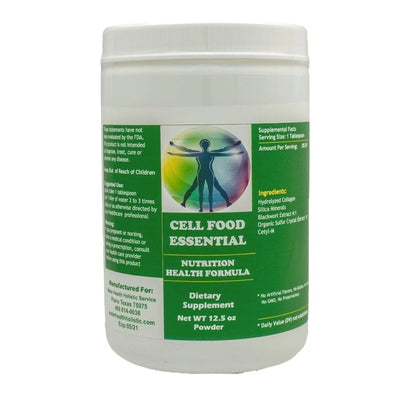 Cell Food Essential Nutrition Health Formula
Sale price
$49.00
Regular price
$89.00
Embark on a transformative journey with Cell Food Essential Nutrition Formula, a meticulously crafted health supplement that is tailored to enhance overall well-being. Our unique blend is carefully formulated to potentially boost cartilage production, strengthen bone density, and fortify ligaments and connective tissues, harnessing the natural power of ingredients like Cetyl Myristoleate, Silica Minerals, Curcumin, Hydrolyzed Cartilage, Organic Sulfur Crystal, and Blackwort.
If you're seeking effective ways to address concerns such as inflammation, chronic pain, cholesterol management, or the improvement of joint health, your search can end here. Cell Food Essential Nutrition Formula is intentionally designed to offer the potential for tangible results. It actively promotes increased cartilage production, reinforces bone density, and fortifies ligaments, connective tissues, and immune support, presenting a holistic approach to enhanced health. Furthermore, it may support your body's innate detoxification processes. Seize the opportunity today with Cell Food Essential Nutrition Formula and discover how it can make a difference in your well-being.
Important Information: 

Supplemental nutrition
No known side effects
354 grams

Disclaimer: 
These statements have not been evaluated by the Food and Drug Administration (FDA). These products are not meant to diagnose' treat or cure any disease or medical condition. Please consult your doctor before starting any supplement program .
---
Share this Product
---
More from this collection