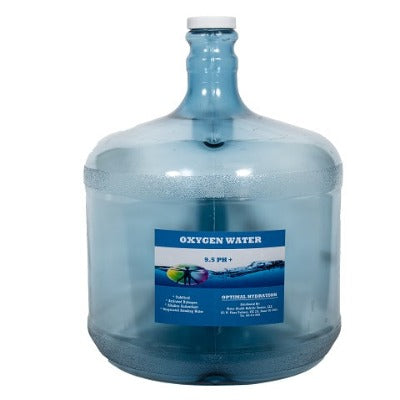 3-Gallon Bottled Oxygenated Alkaline Water (pH 9.5)
Unlock the exceptional experience of our meticulously crafted Alkaline Oxygenated water, enriched with a pH of 9.5 – a sip of vitality, wellness, and the pledge to your finest life. Employing cutting-edge technology, we have not only met but exceeded the industry's highest quality standards to present you with a pure, chemical-free, and ceaselessly fresh source of hydration..  
What truly distinguishes this water is its complete oxygen infusion. By making it a part of your daily routine, you are taking a deliberate step toward inviting in a revitalizing sense of well-being and boundless vitality. Our unwavering commitment to purity and nourishment positions this water as your ultimate companion on your journey to an extraordinary life
Embrace Your Journey to Well-being:
Freshly Electrolyzed water

Abundant in Antioxidants
Enriched with Oxygen and Hydroxyl Ions 

Pure and Stable Liquid Oxygen Drinking Water
Vital Details:
Our oxygenated alkaline water serves as your 100% natural source of hydration

It's completely pure, all-natural, and expertly stabilized for your well-being

You can enjoy this water with confidence, as there are no known side effects associated with it.

Walk-ins are warmly welcomed for your convenience, or you can opt for our efficient delivery service.

Replenish your thirst for just $2.00 per gallon refill and experience the benefits of superior hydration.
Important Information:
Please beware! Our Oxygenated alkaline water is available for convenient delivery or pickup within Dallas metroplex cities, offering an invigorating hydration option. Shipping services are not currently provided.
Our water containers are skillfully fashioned from top-tier, premium-quality bottles, all composed of FDA-approved, food-grade plastic. This guarantees that you can savor your water directly from the container without any doubts or apprehensions regarding its safety and quality.
Disclaimer: 

The contents of this website are provided for educational purposes only and are not intended to diagnose, treat, cure, or prevent any disease or health condition.  The information provided herein should not be considered as a substitute for the advice of a medical doctor or other healthcare professional.  Furthermore, although several scientific studies have been conducted on the effects of ionized water, water ionizers have not been evaluated by the U.S. Food and Drug Administration (FDA)
---
Share this Product
---
More from this collection